*All SumUp accounts come with a free online store where you can add products/services etc. Where clients can choose a product or service and pay directly to your Sumup account. Also included is free invoicing software. This software is in the process of being updated to add even more functionality.
*You can also add a SumUp card and/or business account once signed up if that was something you might be interested in. This gives access to any funds immediately for use via a Sumup mastercard.
*There are no contracts, no monthly fees, just a per transaction cost of 1.69%. Which works out at approximately 16p per £10. If you think that your organization might take in excess of 70K per year then our fees would be less than that again.
*The Sumup payment gateway uses very high security standards to protect your transactions from unauthorized access by third parties, SumUp operates in accordance with the highest card payment industry security standards:
*PCI-DSS (Payment Card Industry Data Security Standard) is the highest data security standard used in the credit card industry concerning data transfer and data storage.
*SSl (Secure Socket Layer) and TLS (Transport Layer Security) are 'encryption protocols' that protect data that is transmitted over the internet. We are using 256-bit encryption, the highest possible level currently available.
*SumUp device encrypts all the information as it reads the card, no unencrypted data is ever stored on both the card reader and your smartphone/tablet during the transaction process. This means you as a business do not store your clients credit card or payment details during the transaction process. 
The Sumup devices available to you are:
The SumUp Air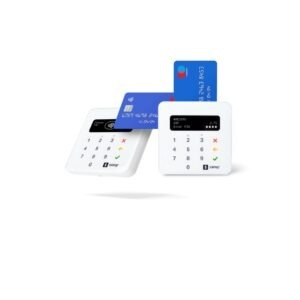 This works in conjunction with the SumUp App on a smartphone or tablet. It needs a wifi or data connection as well.
This works as a standalone device with a built-in-sim (at no extra cost), and does not need the Sumup App to operate, it does need a wifi or data connection.
The SumUp Solo


This also works as a standalone device with a built-in sim (at no extra cost), and does not need the Sumup App to operate, it does need a wifi or data connection.

(We use Solo ourselves in our own business).
The SumUp Point Of Sale: Starter Kit 60% Off For New Clients, Free iPad.

Use a Wi-Fi connection or mobile data to process payments at your business or on the go.
Take secure credit, debit and contactless payments with a SumUp POS. Accept cash, earn tips and offer receipts, refunds and more all from one small device. It has a:
Cloud based iPad POS
Easy to use customized selling interface
Lighting fast transactions
Table management + kitchen screens / printing
Integration with XERO / Quickbooks / FreeAgent accounting
Staff Clock in and out
Fully integrated with SumUp Air only currently
When you sign up for our service you are essentially creating your account. So, it is better to use an associated email address for your dept/business.
It is necessary to add a bank account number/details, where your money would be transferred automatically for you 2-3 days later.
There is an onboarding process to verify a client's business. organisation ID after signing up. But, up to £5000 in transactions is allowed until you have onboarded. Then the amount is unrestricted.
With regard to support. We are consultants for SumUp at Manx By Design. We can take care of any support queries you have at any time, we also work remotely 24/7. Setup is very easy. We have only occasionally had an issue where a client couldn't set things up. If you need assistance at any time, we are very happy to help.  All our devices come with support and guidance. There is also a live chat feature once you are signed up if you want to directly chat to support about anything.
A few useful links below for you relating to our products.
If you have any other questions about any of the products please do ask.
Point of Sale Starter Kit with Free iPad